DRINKS: White Wine Sangria – Super Summer Cooling!
Probably the one drink that epitomises Spain in the Summer time is Sangria. However, traditional Sangria made with red wine can be quite a heady and intoxicating concoction, especially if drunk in the heat of the day.
A perfect alternative, without missing out on the joy of Sangria is to make it with White Wine or Cava for a lighter summertime drink.  You can vary the fruits and use whatever seasonal fruits and berries that are available, such as peaches and plums. Softening the fruit in the sugar and cinnamon helps to enhance some of the fruit flavour into the drink.
1 apricot, stone removed and chopped
1 nectarine, stone removed and chopped
1 orange, peeled and chopped
3–4 strawberries, hulled and sliced
1 tsp caster sugar
pinch ground cinnamon
325ml/11fl oz Spanish white wine, such as white Rueda
50ml/2fl oz Brandy
150ml/5fl oz Ginger Ale or Yellow Lemonade
ice
1. Place the fruit in a large bowl and sprinkle with the sugar and cinnamon. Mix well, and refrigerate for around 1 hour.

2. Tip the fruit into a Sangria jug and pour in the White Wine or Cava and Brandy. Add your chosen mixer and lots of ice. Stir gently to mingle the flavours then serve in ice-filled glasses.
Alternatively, the white wine can be substituted with Cava and instead of the Ginger Ale or Yellow Lemonade, use Pineapple, Orange or Apple Juice. Cava Sangria tastes better by using different fruits, such as grapes, pineapple, orange and mint.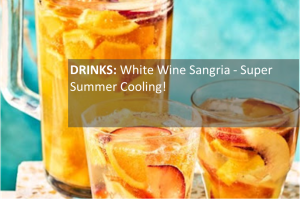 Author Profile
Launched in 2014 The Málaga Food Guide continues to be the Leading Gourmet's Guide celebrating the vibrant and eclectic Food & Lifestyle scene in Málaga Province - quantified by our Users, Web Traffic & Search visibility on both Google & Bing

Daily Food & Drinks News together with our latest Restaurant Reviews, Food Events, our Guest Chef´s Seasonal Recipes with Lifestyle, Health, Wealth and Motoring Features ...SALUD!
About The Author