MÁLAGA FOOD NEWS: Rising Prices of Olive Oil
Posted By: Málaga Food Guide Team – Málaga Province
TheMálagaFoodGuide.com
First for Málaga Food News
Google Indexed on 080923 at 10:30
The world's biggest olive producer, Spain, is on course for second bad harvest in a row, raising fears of gaps on shelves and even higher prices.
Drought in Spain, is likely to halve the country's output this year compared with the previous year. Spain usually supplies about 40% of the world's output. However, heatwaves when the olive trees were flowering last spring and a severe drought since last summer in Spain has impacted on the production. The continued drought in Spain is putting alarming pressure on the producers and raising concerns for the upcoming harvest.
Olive oil prices have exceeded €10 per litre in the Supermarkets prompting some supermarkets to attach security alarms to bottles to deter theft. The price currently is 115 percent higher than at the same time last year, and supermarkets are already noticing changes in buying habits, as the cost of bottle is expected to continue rising.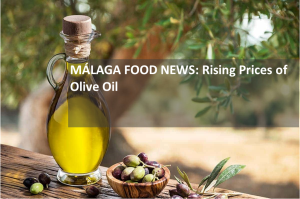 Author Profile
Launched in 2014 The Málaga Food Guide continues to be the Leading Gourmet's Guide celebrating the vibrant and eclectic Food & Lifestyle scene in Málaga Province - quantified by our Users, Web Traffic & Search visibility on both Google & Bing

Daily Food & Drinks News together with our latest Restaurant Reviews, Food Events, our Guest Chef´s Seasonal Recipes with Lifestyle, Health, Wealth and Motoring Features ...SALUD!
About The Author